If your Strymon pedal is NOT detected by Nixie, the Device Details window will provide you with options to help with getting your pedals connected to Nixie.
If you see this window, and your pedal is connected to your computer via MIDI:
Click the Detect Hardware button in the Device Details window (or select Detect Devices from the Device menu) to rescan your MIDI ports for any connected Strymon pedals.
If your connected pedal is still not recognized, click the View MIDI Adapter List button to show all of your computer's available MIDI Input and MIDI Output ports.  If your MIDI interface does not appear,  make sure that it is connected to your computer and any necessary software drivers for the interface have been installed from the manufacturer's website.
Make sure to check that your MIDI connections are correct.  For most MIDI interfaces, the MIDI IN port connects to MIDI OUT and the MIDI OUT port connects to MIDI IN.  For some MIDI interfaces (like the Roland UM-ONE), the cable ends tell you where to connect them.  For example, 'To MIDI IN' connects to MIDI IN and and 'TO MIDI OUT' connects to MIDI OUT.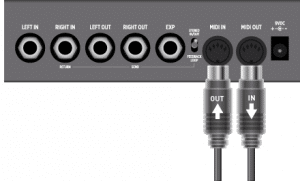 ***NOTE: Clicking Detect Devices or Detect Hardware will erase all items from the History window for all currently connected pedals.  An Auto Save for each pedal will be automatically created in the Preset Collections window. The Auto Save includes all changes that have not yet been written to the device, but will not include the undo history.