NOTE: This page is for a discontinued product. Click below to see the product page for the new version of Flint.
The magical combination of tremolo and reverb is the earliest example of a perfect guitar effects marriage. First pioneered within historic amplifiers of the 1960s, this harmonious coexistence has made it's way onto countless records and performances—from early surf, swampy bayou blues, spaghetti westerns, film noir soundtracks, to modern day indie rock. There are certain things in life that just belong together—the blend of tremolo and reverb create the perfect pair.
Given this storied history, there was no doubt that we wanted to develop a studio-class effects pedal that delivers this classic combination. We carefully studied our favorite classic tremolo and reverb circuits, examined the sonic complexities, and faithfully accounted for every detail in our hand-crafted algorithms. Flint harnesses the complete power of a SHARC DSP to authentically exhibit these details.
Flint gives you the soothing, pulsating, and hypnotic effects that were pioneered in vintage amplifier tremolo circuits, along with three classic and completely unique reverb algorithms. You get the sonically complex '61 Harmonic Tremolo, the swampy and sultry '63 Power Tube Tremolo, and the sharp and balanced '65 Photocell Tremolo. You also get the classic '60s Spring Tank Reverb, the inventive '70s Electronic Plate Reverb, and the nostalgic '80s Hall Rack Reverb.
With eight parameters to tweak, you get extensive control over the tremolo and reverb characteristics. Go from splashy, pulsing twang, to throbbing, swampy blues, all the way to ambient, trembling, and serene reverberated pads. Couple that with true bypass, and a high quality analog front end and output section, and you have yourself the history of tremolo and reverb in a pedalboard friendly format.
Harmonic Tremolo and Reverb
Photocell Tremolo and Reverb
All videos within Listen section: Audio clip signal path: Flint » stereo into two Damage Control tube preamps » PC audio interface. Sound clips played by Sound Designer Pete Celi, Marketing guy Ethan Tufts, and friend of Strymon Dan Cohen.
Flint provides you with three distinct tremolo types. Read our Tremolo white paper and learn how we studied and captured these sonic details.
'61 Harmonic
'63 Power Tube
'65 Photocell
'61 Harmonic
The '61 Harmonic Tremolo is somewhat rare due to its very short period of availability in tube amplifiers in the early 1960s.
It gets its signature sound through a dual-band filtering effect that alternately emphasizes low and high frequencies.
The end-result is a soothing pulse that has shades of a mild phaser effect combined with tremolo due to the nature of the frequency bands that are alternated.
'63 Power Tube
'65 Photocell
Flint gives you three unique reverb types. Read the Flint reverb summary for in-depth details on these reverbs.
'60s Spring Tank
'70s Electronic Plate
'80s Hall Rack
'60s Spring Tank
The '60s Spring Tank Reverb is our faithful recreation of the full-size two-spring tank that was commonly used in vintage amps.
The two-spring tank uses spring segments of differing delay times, which adds to the complexity of the reverberated sound.
Contributing greatly to the sound are the input and output tube circuits which convert the electrical guitar signal into a mechanical signal and then back to an electrical signal.
'70s Electronic Plate
'80s Hall Rack
Effects Adjustment and Tone Shaping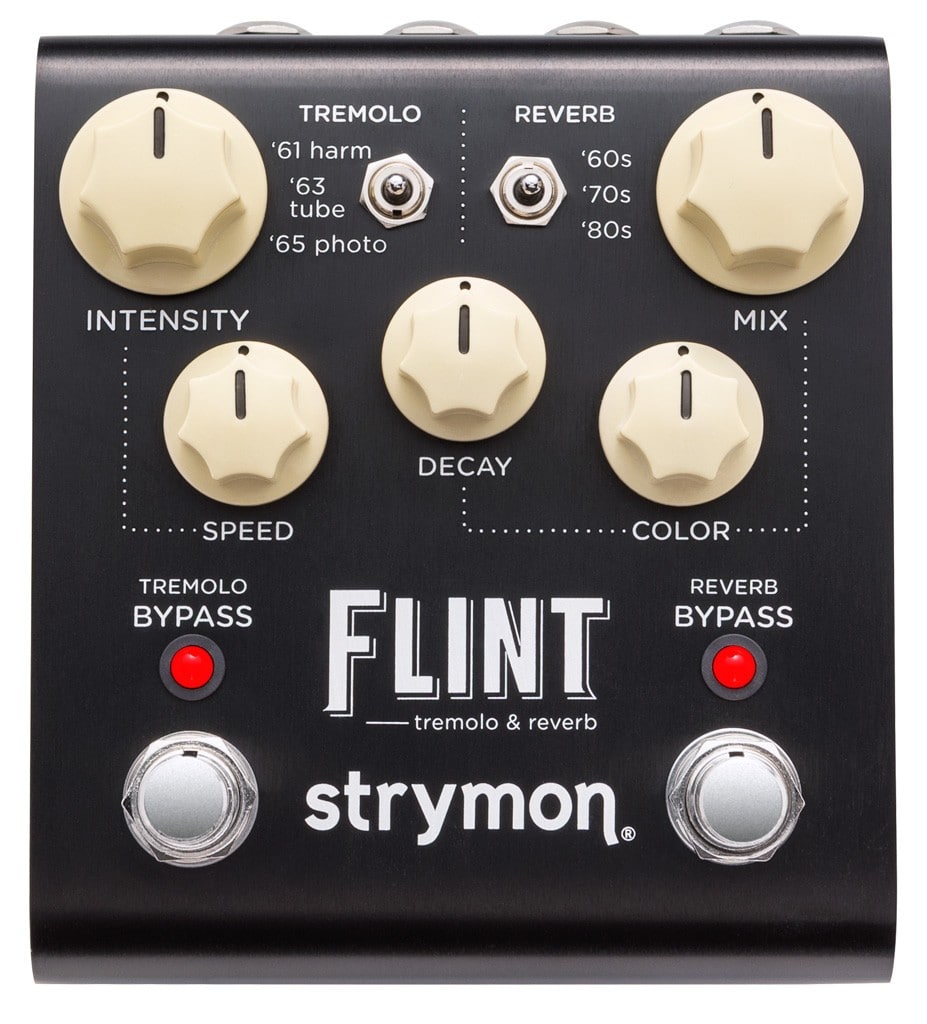 Intensity controls the intensity or depth of the tremolo effect. This is accomplished by varying the amplitude of the LFO that controls the tremolo. At minimum position, the LFO is off and no tremolo effect is heard, but the signal still travels through the tremolo 'circuit'.
Tremolo switches between 3 tremolo types: '61 Harm – Harmonic band filtering, '63 Tube – Power Tube Bias, '65 Photo – Photocell
Reverb switches between 3 reverb types: '60s – Spring Tank, '70s – Electronic Plate (solid state), '80s – Studio Rack Hall
Mix controls the reverb wet mix from zero at minimum to full wet with no dry signal at maximum. A 50/50 mix occurs around 3 o'clock on the mix knob.
Speed varies the LFO frequency from slow to fast. The slow range is extended to give lower tremolo speeds than were generally available in the vintage offerings.
Decay varies the reverb time from short to long. The '70s and '80s verbs will approach 'infinite' decay at maximum.
Color varies the reverb tone from darker at low settings, to brighter at higher settings. This is critical for dialing in the sweet spot in front of a variety of amps.
Engages and disengages tremolo. LED on indicates that the effect is engaged.
Engages and disengages reverb. Bypass mode is true bypass by default. LED on indicates that the effect is engaged. TIP: Hold the Reverb Bypass footswitch during power up to change the bypass mode to analog bypass with trails (reverb persist).
Tremolo Boost/Cut allows the tremolo function to engage a +/- 3dB boost when engaged. Unity gain is at 12 o'clock. This ensures you can get the level you want with any tremolo depth and speed settings.
Reverb Boost/Cut allows the reverb function to engage a +/- 3dB boost when engaged. Unity gain is at 12 o'clock. This is useful for setting a solo boost when engaging the verb, or reducing level with a huge ambient pad.
Tap Subdivision acts as a four-position switch to change the tap subdivision when using an external tap pedal. Change from sixteenth, triplet, eighth and quarter.
Effect Order acts as a two-position switch to determine the order of the tremolo and reverb effects. Change the order without re-wiring your pedal board. Turn to the left side for reverb » trem (like most vintage amps), or to the right side for trem » reverb (for capturing the vibe of your tremolo amp played in a concert hall, or with added post-production verb).
Input – Plug your instrument in here. Default is mono input. Can be used as TRS stereo input by switching internal jumper.
Exp – Connect an expression pedal and control any one knob with your foot. Or use an external tap switch to tap in your tremolo speed. Or plug in a favorite switch to save and recall a preset.
Left Output – Connect to your amp, mixing board, other pedals, etc. Acts as a mono output when only one channel is being used.
Right Out – Connect to your amp, mixing board, other pedals, etc.
Power – Maximum 9 volts DC center negative, with a minimum of 250mA current.
Expression Pedal Input
Individual Bypass
TRS Stereo
Expression Pedal Input
This multi-function input can be configured for use with an expression pedal, external tap tempo footswitch, or Favorite switch.
Set up for an expression pedal and you get assignable expression control over any front-panel knob parameter.
Set up for an optional external tap switch and remotely tap in your tremolo speed.
Set up for our optional Favorite switch and save a favorite preset.
Individual Bypass
TRS Stereo
Sound Design
Ins, Outs, Switches
Audio Quality
More
Sound Design
Three hand crafted tremolo algorithms faithfully deliver classic tremolo experiences:
'61 Harmonic Tremolo, '63 Power Tube Tremolo, '65 Photocell Tremolo
Three distinct reverb algorithms:
'60s Spring Tank Reverb, '70s Electronic Reverb, '80s Hall Rack Reverb
Two tremolo adjustment and tone shaping knobs: Intensity, Speed
Three reverb adjustment and tone shaping knobs: Decay, Color, Mix
Four "hidden" knobs for extensive tone tweaking:
Tremolo Boost/Cut, Reverb Boost/Cut, Effect Order, Tap Subdivision
Ins, Outs, Switches
Audio Quality
More
Enables delicious combinations of vintage colors and contemporary tones that invite creative exploration.
What's best is that it all sounds great. The pedal is fun to play with almost anything plugged into it.
The Flint is unbelievably musical and infinitely usable...
The tremolo pulses are wonderfully organic... The reverbs are similarly intoxicating.