Riverside is the culmination of a thorough analysis of numerous analog and vacuum tube circuits. Our goal? To deliver a new world of harmonically rich, incredibly versatile, tube-inspired drive sounds. We didn't want to build just another distortion or overdrive. We knew we must examine what has been done, and bring a new approach to the world of drive sounds.
Discover your amp's potential.
Riverside's cascading gain stages create harmonically rich tones that are immensely musical and natural—from silky clean overdrive to colossal distortion, and all points between. Our analog JFET front-end ensures that Riverside responds to your guitar with uncompromised dynamics and feel. The precision crafted DSP generates dynamic complexity and pleasing harmonics at every stage, letting your amp shine at any gain level. Riverside takes your amp to places you never knew it could go.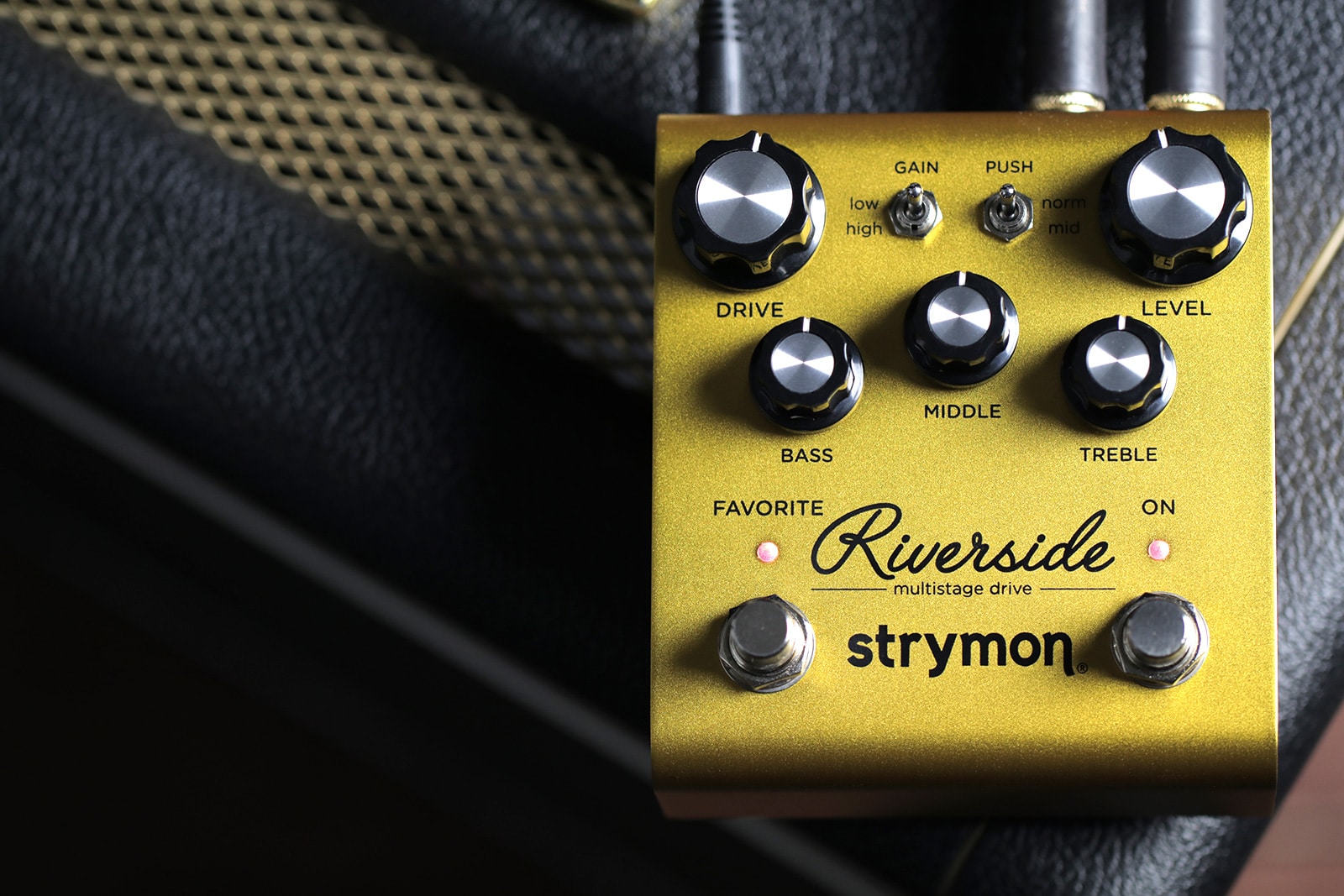 Riverside's continuously variable circuit tuning dynamically tweaks multiple parameters under the hood so that the sweet spot follows you at any gain setting. As you turn the Drive knob, Riverside makes continuous adjustments, tuning the circuit for optimum tone. This results in an incredibly versatile drive pedal that is equally capable of providing sparking cleans, mild overdrives, high-gain leads, and heavy saturated distortions.
Flexibility to adapt to any amp.
Your amp choice has a large influence on the sound of any drive pedal connected to it. Riverside's musical 3-band EQ, with independent Bass, Middle and Treble knobs, is designed to complement your amp's tone with the flexibility needed to dial in your sound effectively and efficiently. The three-position Presence switch tailors the highest frequencies, allowing Riverside to integrate perfectly with any amp or setup, no matter how dark or bright.
Riverside can adapt and integrate with any setup, no matter how dark or bright. It can also be tailored to take your amp where you never knew it could go—letting it shine at any gain level. This audio example demo features a wide range of amplifiers, guitars, and pickup types.
Signal path: Guitar » Riverside » Amp » Shure SM57 microphone
Strymon sound designer and DSP engineer Pete Celi takes you on an in-depth tour of Riverside's sounds and features. Pete talks about the JFET and DSP gain stages, the circuit tuning going on behind the scenes, and goes over the sonic capabilities in detail.
Signal path: Guitar » Riverside » Amp » Shure SM57 microphone
Tone Adjustment and Shaping
Drive adjusts the amount of gain applied to the signal. Employs continuously variable circuit tuning which adjusts many parameters as you turn the knob.
Gain toggles between low or high gain channels.

Low sets a gain structure allowing for a wide range of low to medium gain sounds. At high Drive settings the sound is heavily over-driven, and slightly 'loose' like a dimed vintage amp.
High increases the gain throughout the signal path and tightens things up. Stays relatively clean at low Drive settings, shifting to heavy saturated distortion at maximum.

Push toggles between flat or enhanced mid-range frequencies.

Norm can be used for cleaner, more transparent tones.
Mid adds a mid-band EQ push just after the analog front-end gain. This pushes the subsequent drive stages harder, tightening up the response. Perfect for fat drive tones, or pushing a distorted or on-the-edge amp into further breakup.

Level controls the output volume level when the effect is engaged.
Bass is an active shelving/parametric low frequency control. The control is post-drive, shaping your drive tones before they reach your amp.
Middle is a parametric mid boost/cut control with optimized frequency center. The control is post-drive, shaping your drive tones before they reach your amp.
Treble is a wide-ranging high frequency active shelf control. The control is post-drive, shaping your drive tones before they reach your amp.
Favorite is used to recall a stored favorite preset setting. Red LED indicates that the Favorite preset is selected. Press and hold to save a new favorite sound.
On activates electro-mechanical relay for true bypass. Red LED indicates that the effect is engaged.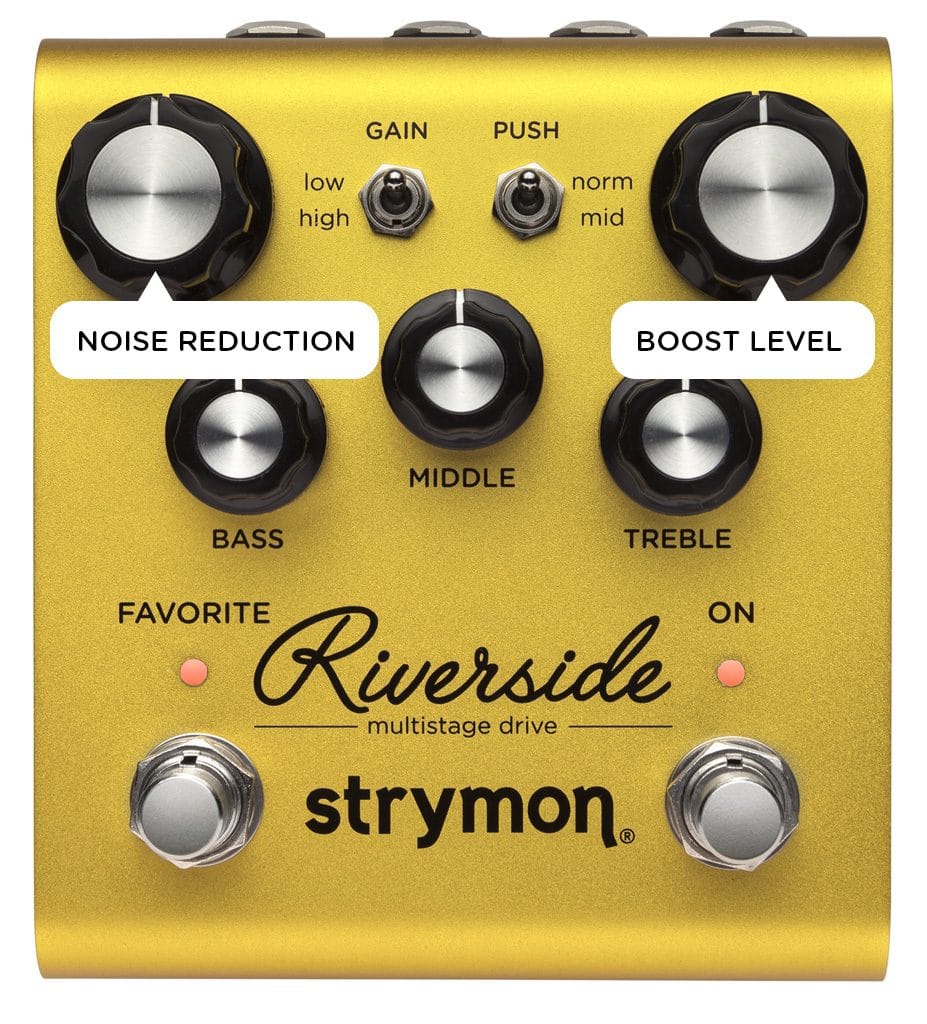 Optional variable-threshold Noise Reduction tames hum, buzz, and system noise when you're not playing. A downward expander with advanced signal detection techniques creates a seamless transition to noise reduced silence with all types of input signal dynamics.
Boost Level sets up to +6dB of available boost when using an external Boost foot switch. Press and hold ON foot switch to enter Secondary Function mode. Release the foot switch, then turn the desired knob to adjust the parameter.
In is a high impedance mono input. Plug your instrument in here.
Out is a mono signal output. Connect to your amp, other pedals, mixing board, etc.
Presence is a three position switch that tailors the highest frequencies of the output signal.

Minus (-) provides clarity with a controlled top end that works well with many amps that have a brighter voice.
Enhanced (center) extends the top end to allow for more sizzle on high gain tones. Useful if you want enhanced detail in the uppermost frequencies.
Plus (+) delivers extended high end detail to the darkest amps, and is also useful when plugging directly into a power amp.

Boost allows use of an external switch to toggle up to +6dB of post boost on/off. Or connect to the EXP input of another Strymon pedal and simultaneously engage the Favorite settings on both pedals with Riverside's Favorite switch.
Expression Pedal Input provides continuous expression pedal control over any or all of the knobs, in any direction, with your foot. Or can be used in Volume Mode to control the volume level of the effect.
Plug your power supply in here. Maximum 9 volts DC center-negative, with a minimum of 250mA of current. Standard 5.5mm x 2.1mm barrel connection.
Digital or analog? We chose both.
The first stage of Riverside's custom multistage drive topology is an all-analog, ultra low noise, discrete, class-A JFET circuit. This gain stage is digitally controlled to maximize headroom while adding as much as 20dB of pure analog gain, with tight integration to the subsequent DSP gain stages.
With our hybrid approach you get the best of both analog and digital worlds: The JFET stage provides exceptional touch sensitivity and dynamic interaction with your guitar, while the incredibly powerful SHARC DSP facilitates the great level of detailed complexity and responsiveness you'll want to hear.
Favorite Switch
Presence Switch
Noise Reduction
Boost Input
Expression
Volume Mode
Favorite Out
MIDI Control
Favorite Switch
Everyone has a favorite.
Riverside allows you to save and recall your favorite settings.
Simply dial up your favorite sound, and press and hold the Favorite switch to save these settings.
Instantly recall these settings with the press of the Favorite switch, or press again to return back to the current knob settings. It's like having two drive pedals in one.
Presence Switch
Noise Reduction
Boost Input
Expression
Volume Mode
Favorite Out
MIDI Control
Sound Design
Ins, Outs, Switches
Audio Quality
More
Sound Design
Custom cascading multistage distortion topology provides a wide range of tube-inspired drive tones
Digitally controlled analog class A JFET input gain stage maximizes headroom while adding up to 20dB of pure analog gain
Precision crafted DSP gain stages provide detailed complexity and responsiveness
Low gain channel for smooth classic overdrive
High gain channel for modern saturated distortion
3-band EQ with independent Bass, Middle and Treble controls
Selectable post-analog gain mid-band EQ push
Presence switch to tailor the sound for use with all amplifiers from dark to bright
Optional variable-threshold noise reduction helps tame noisy guitar pickups
Ins, Outs, Switches
Audio Quality
More