Availability: In stock.
Ships same day, or next business day.
Create instant retrofuture atmosphere with evocative vintage delay tones. Activate your imagination with evolving ambient echoes and warm, organic feedback with just the right amount of grit. Sculpt your soundscape in real time as Volante becomes an extension and expansion of your musical instrument. Infuse your pedalboard with stunning vintage vibes that resonate and inspire.
Three Magnetic Delay Types, Reverb, Sound on Sound, and More.
Delivering truly exceptional sound quality and intuitive playability, Volante is designed to radically enhance the sonic expressiveness of your pedalboard. Featuring magnetic drum echo, tape echo, and reel-to-reel studio echo, Volante is a stereo multi-head delay that also offers a Sound on Sound mode and a vintage spring reverb algorithm. Volante's powerful sound-sculpting controls provide limitless sonic possibilities.
To capture the nuance and complexity of classic tape and drum echo machines, every last magnetic delay system attribute was relentlessly studied and faithfully recreated. From the sought-after natural saturation and soft clipping of magnetic media when driven hard, to hands-on real-time controls for mechanics, wear, head-spacing, and low cut, Volante instantly adds tons of vibe to your sound.
Volante provides the full experience and sonic attributes of iconic multi-head echo machines. At the center of Volante's control surface are four delay playback heads with individual feedback, panning, and level controls—delivering unlimited creative options right at your fingertips. All of this range allows the creation of complex rhythmic patterns as well as reverb-like atmospheric textures.
Three Vintage Echo Machines.
Drum Delay With Unprecedented Control.
Magnetic drum echoes are famous for their warmth and for their harmonically rich and saturated sounds. This is due in large part to the many tube stages present in the most sought-after units. There were tubes in the input buffer, the signal mixer, the record and playback amplifiers, the tone shaping circuit, and the output mixing circuit.
Every sonic aspect of our favorite drum echoes has been meticulously reproduced within Volante. Dial in any possible sound from the full range of the best vintage drum echo units in conditions ranging from fresh-from-factory to road-worn classic.
Classic Tape Echo Experience.
Volante gives you superbly crafted multi-head tape echoes, including the smooth tape saturation and the characteristic imperfections and nonlinearities inherent to the sound of those vintage machines.
Mechanical alignment, head wear, and tape crinkles, splices, and contaminants are all accounted for in Volante, giving you all the richness and complexity of a classic tape echo, with modern control and stability. Volante also allows you to recreate the irregular head spacing of some of the classic tape echo machines.
The professional reel-to-reel machines of the 50s and 60s were high-fidelity units built to accurately reproduce full-range audio signals. In the hands of creative engineers, these machines also doubled as some of the earliest studio effects, producing some of the fattest sounds imaginable.
Of Volante's three magnetic echo types, the Studio Echo provides the cleanest sound, able to sustain the highest number of repeats with minimal degradation. Volante gives you a pristine studio delay with the full-bodied warmth and fidelity of reel-to-reel tape.
Individual Head Control
Tape Saturation
Spring Reverb
Presets
Head Spacing
Stereo Panning
Playable Feedback
Speed Switch
Infinite Repeats
Sound On Sound
Reverse
Pause
MIDI Control
Expression
Line Level Switch
MultiSwitch Plus
Individual Head Control
Set Playback Level and Feedback for Each Head.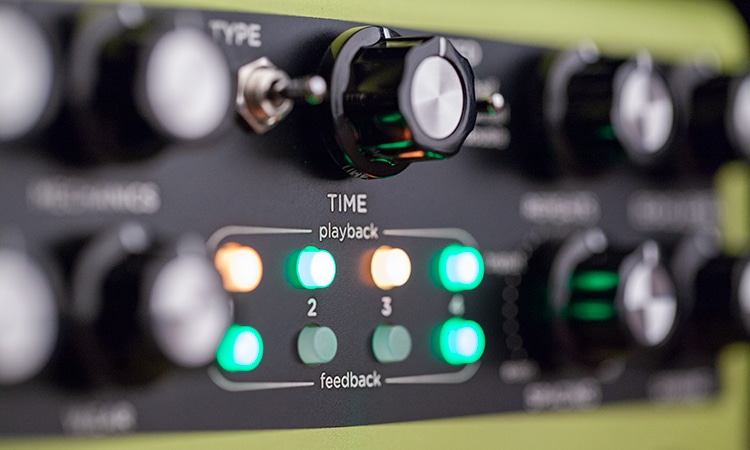 Each head's playback level can be set for full volume, half volume, or off.
Independent of playback level, you can switch each head in or out of the feedback circuit.
You can even switch heads into the feedback circuit that are not activated for playback.
All of this control allows the creation of interesting and complex rhythmic patterns as well as unique atmospheric delay textures.
Tape Saturation
Spring Reverb
Presets
Head Spacing
Stereo Panning
Playable Feedback
Speed Switch
Infinite Repeats
Sound On Sound
Reverse
Pause
MIDI Control
Expression
Line Level Switch
MultiSwitch Plus
In the video below, Strymon sound designer Pete Celi gives you a tour of Volante's features and functions.
REC LEVEL – Controls the analog gain of the signal fed into the record head.
LOW CUT – Controls the low frequency shaping of the echo repeats.
ON – Engages and disengages effect. Press and hold for infinite repeats. In Sound on Sound mode: Reverses playback. Press and hold to enter infinite mode which disables the record head and plays the most recent loop with minimal degradation.
MECHANICS – Controls the amount of mechanically related speed fluctuations and media irregularities including friction, creases, splices, and contaminants.
WEAR – Controls the wear of the media and playback heads which affects the fidelity of the high frequencies. Set to minimum for a fresh, full bandwidth sound.
TYPE – Selects between three available magnetic media types.

drum: Steel wire spinning platter. Atmospheric echoes emphasize the low-mid frequencies and will saturate with hot signals or high feedback.
tape: Magnetic tape used in vintage echo machines. Warm tape response with moderately clean and airy signal path.
studio: Clean studio grade tape used in reel-to-reel units.

playback – Selects which of the individual playback heads are engaged. Head Volume: Press and hold for one second to toggle between half and full volume.

GREEN LED ON

= full volume.

AMBER LED ON

= half volume.

feedback – Enables or disables feedback of the corresponding playback head signal to the record head. Panning: Turn the TIME knob while pressing and holding the individual feedback buttons to adjust the panning for each playback head. Adjusting the knob to twelve o'clock returns the head to the center position.
FAVORITE – Press to recall active favorite preset. In Sound on Sound mode: Pauses the loop. Press and hold to stop and start loop playback with added ramp up and ramp down effect.
TIME – Controls the delay time at head 4. Heads 1-3 subdivide proportionally according to the SPACING setting. Delay time ranges vary by selected SPEED setting.

half: 400ms – 4s
normal: 200ms – 2s
double: 100ms – 1s

SPEED – Affects the fidelity and mechanical response of the selected TYPE. Changing the SPEED switch will also result in a proportional change to the delay range of the TIME knob.
REPEATS – Controls the feedback amount for the heads that have their feedback enabled.
SPACING – Adjusts the spacing between the heads. Turning the knob morphs the heads in between the marked settings.
ECHO LEVEL – Sets the overall delay signal level sent to the output.
SPRING – Controls the output mix of the integrated spring reverb tank. Reverb is applied after echo.
TAP – Sets quarter note delay time for playback head 4. The TAP LED will flash to indicate the delay time in quarter notes.
INPUT MODE – Sets the INPUT level. Use INST with guitar level input. Set to LINE when using Volante in the effects loop of a guitar amp, or when driving Volante with a hot output from a synth or mixer insert.
INPUTS – High impedance audio inputs. Use LEFT IN for mono input. Connecting a jack to the RIGHT IN will automatically set the pedal to output in STEREO.
OUTPUTS – Audio signal outputs. Use LEFT OUT for mono output. See complete user manual for additional details.
EXPRESSION – Connect an expression pedal, external TAP switch, 1/4″ to MIDI cable, or MultiSwitch Plus for additional external control.
USB – Used for connecting to a computer for controlling via MIDI.
MIDI – Full featured MIDI input and output supporting MIDI CCs, program changes, and more.
POWER – Use included power supply or any adapter with the following rating: 9VDC center negative. 300mA minimum.
Completely Analog Dry Path.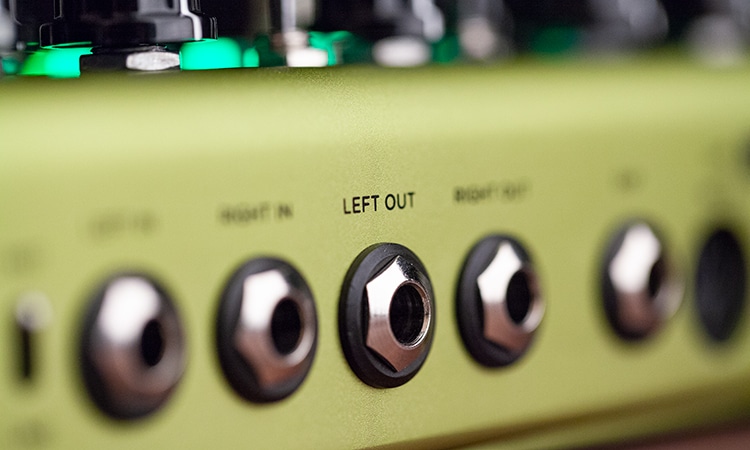 In a typical digital effect the dry signal gets converted to digital, causing conversion noise and latency. Signals are often attenuated before combining digital dry and wet, with makeup gain amplifying the conversion noise. To avoid this, we've equipped Volante with a completely analog dry path, featuring all-analog, ultra low noise, discrete, class-A stereo JFET preamps. Volante is truly a studio-quality effect.
We've outfitted Volante with the incredibly powerful Analog Devices SHARC ADSP-21375 processor, which provides a 266 MHz core instruction rate, and an incredible 1.596 Gigaflops of peak performance. Thanks to this high-powered technology platform within Volante, we had the freedom to craft our processor-intense echo algorithms without compromise.
Sound Design
Ins, Outs, and Switches
Audio Quality
More
Sound Design
Multi-head magnetic media delay machine providing four playback heads with individual feedback, panning, and level controls
Processor-intense algorithms deliver meticulously nuanced recreations of vintage magnetic echo systems (drum echo, tape echo, studio reel-to-reel echo)
Dedicated control over echo machine tone and media: Low Cut, Mechanics, Wear
Input Record Level for clean reproduction to warm, fat saturation
Independent Spring Reverb
Sound on Sound looping mode (mono) with reverse, pause, splice, and infinite repeat functions
Ins, Outs, and Switches
Audio Quality
More