In this installment of Gear Guide, let's talk about power! A common question that we receive is what kind of power supply can be used with Strymon pedals.  There are many different options out there.  We know that some users like to use third party power supplies. Using the right power supply is important to ensure that your pedal will power up reliably, and you don't damage your pedal.
Power Requirements
First, it is important to be aware of the power requirements for each of our pedals to ensure that your power supply will power up the pedal reliably.  There are three different power requirements for our pedals:
| | | | | |
| --- | --- | --- | --- | --- |
| | | | | |
| Our smaller pedals (blueSky, Brigadier, Deco, DIG, El Capistan, Flint, Lex, Ola, and Orbit) require a maximum of 9V DC and a minimum of 250mA current. |   | Our larger pedals (BigSky, Mobius, and TimeLine) require a maximum of 9V DC and a minimum of 300mA current. | | Our (discontinued) OB.1 compressor/boost pedal is all analog, so it has a much lower power requirement of 9V DC, and <20mA current. OB.1 can be powered by a 9V battery. |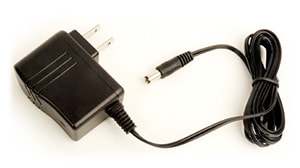 We ship many of our pedals with a 9V DC power supply that provides 660mA of current with a 2.1mm center-negative barrel connector. We recommend using our included power supply, as they should always power up your Strymon pedals without issue.
If you are looking to power more than one of our pedals from a single power supply, we offer the Ojai and Zuma high-current DC power supplies, each of which provide multiple high-current, individually isolated, ultra-low noise outputs to power your pedals.  

Non-Strymon Power Supplies
If you are using a third party power supply, please make sure that it provides a maximum of 9V, provides more than the minimum required current (mA), and has a 2.1mm center-negative connection.
We do realize that many players build boards that warrant the use of centralized power. In addition to our Ojai and  Zuma high-current DC power supplies, there are several other supplies on the market that will work. The Voodoo Labs Pedal Power Digital, 4×4, and Mondo can each power at least 4 of our pedals with 9V isolated outlets providing sufficient current.
The Voodoo Labs Pedal Power 2+ can be used to power 2 of our smaller pedals (from outputs 5 and 6 only), but you would need to get their current doubler cable to power our larger pedals such as TimeLine, Mobius, and BigSky.
Important note: Many third party power supplies have settings that can send more than 9V to your Strymon pedal. Ensure that you are familiar with the settings on your power supply to avoid damaging any pedals. For instance, the Voodoo Lab Pedal Power 2+ has series of dip switches on the back. Always ensure they are set to the NORMAL position when used with any Strymon pedal.
There are other power supply options available from manufacturers such as Truetone, CIOKS, Dunlop, T-REX, Eventide, TheGigRig and many others.  Just make sure that the power supply you choose provides isolated 9V DC and at least 250mA (small pedals) or 300mA (large pedals) from a 2.1mm center-negative pin.
Isolated Power
We do not recommend using daisy chained power supplies as our digital pedals require isolated power.  Using a daisy chained power supply can yield additional noise and hum in your audio signal, so make sure to use an isolated power supply.
The same can be said about multi-outlet power supplies that can provide power to several pedals at once.  If the outlets of this type of power supply are not isolated, you may get additional noise and hum in your audio signal.
Troubleshooting
Here is some troubleshooting you can try that applies to pedals of any manufacturer.  If you're using a third-party power source (such as those sold by Voodoo Lab, Ciocks, Dunlop, etc.) but are having trouble powering your pedal, try running through these steps:
Double-check the current and voltage requirements recommended by the pedal manufacturer.
If your pedal shipped with a wall adapter from the factory, try powering with that. If it powers up, it's probably a setup issue with your third-party supply.
Check the current. Make sure the supply is capable of providing more current than the pedal requires. For example, if your pedal requires 200 mA, it's probably best to provide it at least 250 mA to ensure it works properly under all circumstances.
Check the voltage. Some pedals are very specific about their voltage requirements. If the pedal requires 9V, be sure not to send it more than 9V, because excessive voltage can irreparably damage a device. On the other hand, some pedals, such as fuzz boxes, are perfectly happy running at anywhere from 9V to 18V. Just be sure you know what the manufacturer recommends.
Finally, check the polarity. Most pedals have center-negative power jacks, though there are a few with center-positive ones. Polarity is often indicated by a diagram on the pedal, but you may need to check with the manufacturer.
A happy pedal is one that is powered with the correct current and voltage. Go forth and keep all of your pedals happy!