Our Riverside multistage drive is a versatile pedal that provides a wide range of sound and is a great addition as an overdrive/distortion on any pedal board. But did you know that you can also utilize Riverside's flexible tonal options as 2-channel preamp direct into your amplifier's power amp or into the front end of a clean amplifier?
Use Riverside as a preamp in front of your amplifier.
Use Riverside as a preamp into the Effects Return of your amplifier.
1 Pedal, 2 Channels
To use Riverside as an always on, 2 channel preamp, you can set 2 different tone settings on the pedal for the manual and Favorite preset. First, dial in the sound you would like to use as Favorite preset (such as a crunchy or distorted sound) and store that by pressing and holding down the Favorite footswitch for a few seconds.
Once your Favorite preset has been saved, dial in a completely different sound with the knobs and switches of the pedal (such as a clean tone) to use as your manual setting. Now you can toggle between the 2 channels on your Riverside by pressing the FAVORITE footswitch.
Using other pedals with Riverside as Preamp
Riverside can be used to be your primary tone sculpting tool using its analog JFET and 'DSP tube' gain stages to be your 'always on' preamp on your pedal board, enhancing any clean amplifier with harmonically rich and tonally complex sounds. This allows you to treat Riverside as the front end of your amplifier running any effect pedals you typically use in front of your amp such as compressors, additional overdrives, and modulation effects directly into Riverside. These effects will sound and operate just like they would when placed in front of an amplifier.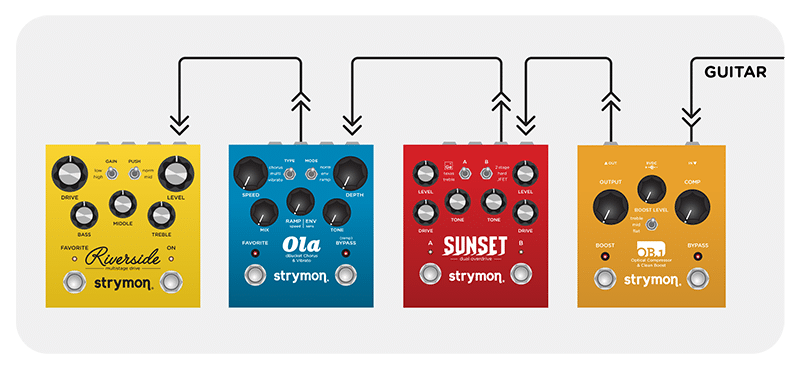 The signal chain after Riverside's output section on its way to your amplifier can also be used as your 'effects loop' to place additional effects like delays and reverbs you would normally use within the effects loop of an amplifier. With this setup, you would no longer have to route long cables back and forth to and from your amplifier's effects loop jacks.